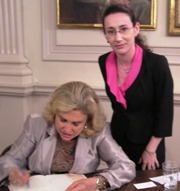 Tsirina Goroshit with Hon. Congresswoman Carolyn B. Maloney, as Congresswoman writes "Tsirina - Make a Difference".
Winning Fraud Marriage Finding.
A client from West Africa came to our office with denied adjustment of status case with fraud marriage finding. The client was put in removal proceedings as well and faced removal from the U.S. After a thorough interview of the client and review of her case, we have found that our client was married to an abusive U.S. citizen man who not only withdrew his petition but also lied to the interviewing officer stating that he was offered $5000 for a marriage with our client. Our client had divorced from her abusive spouse and years after remarried to another U.S. citizen man, however the petition submitted by her new husband was about to be denied because of her unfortunate previous marriage and fraud marriage finding. We have aggressively defended our client and demanded a cross examination of the ex-husband. We proved that the ex-husband was abusive and that he lied about the offered money for marriage because our client's marriage with her ex-husband was bona fide (true) and not marriage for green card. After an extensive litigation and multiple submitted evidence, the case was approved and our client became proud U.S. legal permanent resident.
Approval of H-1B visa for Market Analyst for a small company.
With the increased interest, demand for H-1B workers, stiff H-1B requirements, the quota and a lottery as a result of such, it became difficult to obtain an approval for certain occupations. One of the most challenging occupations is a Market Analyst. Although most analyst positions are H-1B level occupations, the petitioner for Market Analysts or Market Research Analysts is required to proof that the position qualified for a specialty occupation. Despite all difficulties, we won this case with submission of supporting evidence and presenting the complexity of the duties performed by Market Analyst. We proved that Market Analyst is specialty occupation, thus this case was approved and H-1B visa was obtained.
Prosecutorial discription success.
A client from Japan was placed in removal proceeding due to a visa overstay. Unfortunately despite residing in the U.S. for over 15 years, he didn't have qualified relative to meet the requirement of cancellation of removal for non permanent resident. Moreover, he did not have any relative in the U.S. Despite that we had convinced the government that due to the client's talent, contribution to the society and public of the U.S. he deserves to stay in the U.S. The Department of Homeland Security granted request for prosecutorial discretion.
Citizenship application victory despite prolong stays abroad.
A U.S. lawful permanent resident, a citizen of Russia, hired us to assist in her citizenship application. The problem of the case was that the client had obtained her permanent resident status as a refugee and despite that she had oftentimes travelled back to Russia and stayed there for the extended periods. Moreover, she is a frequent traveler and had stayed overseas for a prolong period of time putting herself in allegation of abandonment of permanent residence in the U.S. Using legal arguments and substantial evidence we had proved that our client had never intended to abandon her permanent resident status and her case was approved. Currently, she is a proud citizen of the U.S.
Winning Asylum after the interview, only 6 months, after arrival to the U.S.
A client with a family of 6 people from Uzbekistan has requested legal assistance in presenting his asylum case. His and his spouse's rights were severely violated, causing non reversible damage to his spouse. The challenge was that the client had no written evidence from the abuser and no documents were obtained from Uzbekistan. Our office had worked with leading specialists in medical, psychological and country conditions experts in the U.S. who supported our client's claim and the case was approved right after the interview without Immigration Court intervention.
Asylum Victory, filed over two years after arrival into the U.S.
A client from Uzbekistan filed her asylum application over two year from the date of her arrival. Despite past persecution, our client was afraid to file for asylum to avoid a harm to her family and did not file for asylum within one year, nevertheless while in the U.S., her personal circumstances had changed and raised a serious fear to return to her homeland. Our client was placed in removal proceedings. One of the challenges that she faced was due to a delay in filing her asylum application. According to the law, asylum applicant who applied for asylum on or after April 1, 1998 (or April 16, 1998, for those applying affirmatively), must establish that he or she filed for asylum within one year from the date of last arrival OR establish that he or she is eligible for an exception to the one-year filing requirement. One of the exceptions to the one-year ruling is a change in the applicant's personal circumstances. The burden of proof is on the applicant to establish the existence of a changed circumstance materially affecting eligibility for asylum or of an extraordinary circumstance related to the applicant's failure to apply for asylum within one year from the last arrival. Despite a difficulty in winning such cases, we have managed to provide credible evidence and submit an expert witness testimony establishing a change in our client's personal circumstances and an Immigration Judge has granted asylum application.
Naturalization Appeal. Overcoming false testimony and bad moral character allegations.
A man from Afghanistan came to us with denied naturalization with allegations of false testimony, misrepresentation and bad moral character findings. We have submitted an appeal with legal brief and other supporting documents. Our client has never been untruthful, however due to cultural differences, he misunderstood some questions, causing denial of his naturalization application on various grounds. Submitted appeal was approved and our client has become a proud citizen of the U.S.
Success in overcoming charges of insufficient evidence of bona fide marriage and lack of abuse.
A woman and her adult daughter came to us with their I-751 removal of conditions denied due to lack of evidence of abuse and insufficient evidence of bona fide marriage. Over 20 year of age difference, lack of English fluency, cultural and religious background differences between spouses led immigration to believe that marriage was not real and claimed abuse not based on supporting evidence. Both ladies were placed in removal. After careful review of the case, we found that previous attorneys did not submit required evidence. We have refilled an entire waiver with multiple evidence supporting our clients claims. Case got approved and Immigration Judge has terminated proceedings against our clients.
Naturalization with criminal charges.
A client from Bulgaria applied for Naturalization without an attorney. A few months before his naturalization interview, he was arrested and charged with theft and possession of stolen items. We have proved that despite criminal charges, he is a person of good moral character, providing a major contribution to society and is eligible for naturalization. Case got approved and currently he is sworn in citizen of the U.S.
Success of a Minor, who entered the US without inspection.
Our client from Mexico was 5 years old when he came to US to be with his permanent resident mother. Because client came without an inspection, he was not eligible to adjust status in the US, even, after his mother's petition got approved and priority day became current. When client came to us he was already 16 years old. We filed all required documents and a minor travelled back to his home country to obtain his immigrant visa from US consulate in Mexico. After the interview his case was approved and minor came to US with an immigrant visa.
A victory of overcoming inadmissibility due to membership in Communist Party.
A client from China came to us and revealed that prior to his arrival to the United States he was a member of Communist party. His membership was for purpose of obtaining an employment without any political implication. Under Immigration and Naturalization Act an immigrant who is or has been a member of or affiliated with the Communist party or any other totalitarian party is inadmissible, the law also provides exceptions to inadmissibility for involuntary membership, such as for the membership that was terminated at least 2 years before application for admission or 5 years if a member of the party controlling the government and if an applicant is not a threat to U.S. security. Unfortunately, our client's membership was terminated only a few months upon his admission to the U.S., however we managed to proof that his affiliation with Communist Party was involuntary or for purpose of obtaining an employment without any ideological commitment to Communism. Our client's adjustment of status was approved and he obtained his green card in 3 months after we filed all required documents and evidence. Now he is a proud legal resident of the United States.
Story of Removal of Conditions.
A client from Haiti has attempted to file a Form I-751 to remove condition from his green card on his own, he came to us holding a denial letter from immigration because among other issues, he didn't submit his application timely and thus his status was terminated. We carefully evaluated his case and promptly refilled his application with substantial evidence and documents supporting his application, as a result of our work, he was granted permanent residence and now he is on the way to apply for a citizenship.
Story about a Waiver of inadmissibility.
U.S. citizen came to us with respect to a waiver of inadmissibility due his spouse's unlawful presence in the U.S. Foreign spouse entered the U.S. illegally, she worked without any documents and one day she met a man of her dreams. They fell in love, married and had a child. Everything would be good BUT a wife remained undocumented due to her illegal entry and unlawful stay in the United States. She was always full of fear. A couple decided to that it has to been changed. Foreign spouse left the U.S. for the purpose of obtaining a visa through U.S. consulate, unfortunately her visa was denied. We worked around a clock and quickly submitted a Form I-601 waiver of inadmissibility and supporting evidence proving qualified relatives extreme hardship and send it to U.S. consulate in Brazil. Within a few months a waiver was granted and now spouses are reunited in the U.S.
Waiver of inadmissibility due to criminal conviction.
A client from Trinidad came to us after her adjustment of status was denied because of her felony conviction. At the time of adjustment, our client was still on probation because of grand larceny conviction. We worked hard to gather evidence to present a successful waiver of inadmissibility. After we refilled her application for adjustment of status and a waiver, her case was approved. Recently, she became lawful permanent resident.
Stories of victims of an abuse.
An abused woman and a child
A woman from Germany came to us after her U.S. citizen husband was abusing her and her son. A husband started an immigration processes and later decided to use a path of abuse, humiliation and threats against our client. After months of gathering evidence, we proved that she and her son are victims of an abuse. We filed all necessary documents and she got her legal U.S. residency and freedom.
An abused man and his way to freedom.
An abused man from Ghana came to us with a notice to appear at the Court. He came from Africa and married a woman who loved and cared for, who in return abused him emotionally, controlled him and left him. They had 2 immigration interviews that were denied and our client had found himself in deportation proceedings. We worked hard to prove his case, his case was approved and Immigration Judge granted him permanent residence in the United States.